.
.
.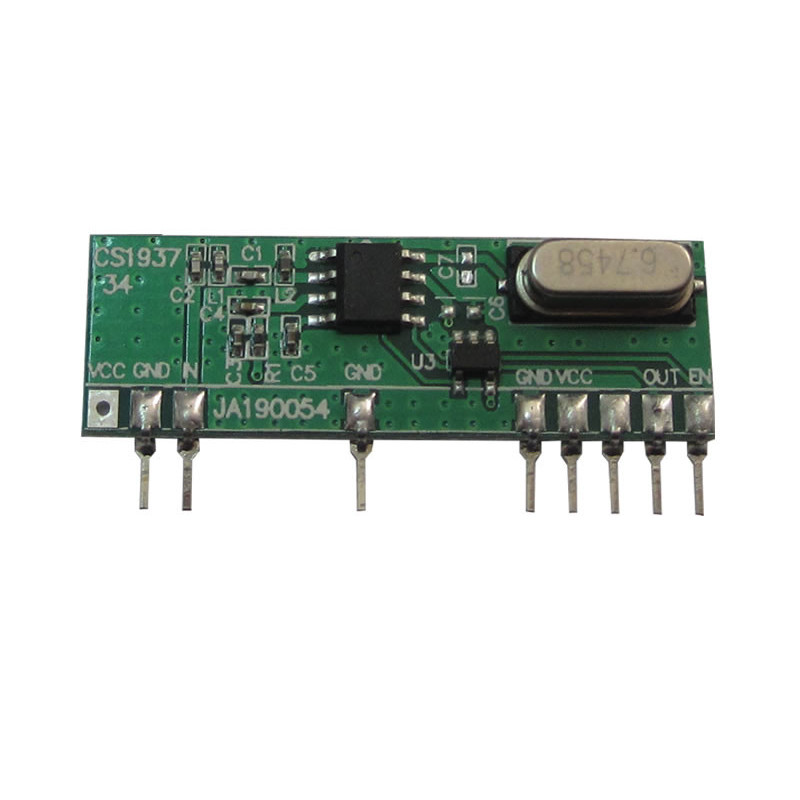 Scroll mouse to zoom in or zoom out
RCRX2-434
RCRX2-434
Ricevitore super eterodina 433.92MHz modulazione AM 
 RCRX2-434  è un ricevitore super eterodina modulazione AM .  Modulazione ASK .  Pin out standard.  Versione basso costo.
RCRX1-434  RCRX2-434  433.92MHz AM Superhet Receiver 
It's an OOK Superhet Data Receiver Module.
Very Low Cost version. The main features are the following :
1) RF Sensibility -113dBm.
2) Supply Voltage from 2.0Volt to 5.5Volt
3) Fast Startup Time 3ms
The difference between the two versions is that the RCRX2 version does not have the pin 1.
Compliant with harmonics standards:
• EN 301 489-3 : V2.1.1
• EN 300 220-2 : V3.1.1
Mechanical Dimensions . 38 x 12mm                                                                             

| | | | | |
| --- | --- | --- | --- | --- |
| Technical Characteristics | MIN | TYP | MAX | UNIT |
| Supply Voltage |  2.0 |   |  5.5 | Volt |
|  Current Consumption (RX Mode 3.3Volt ) |   | 5.0 |   |  mA |
|  Current Consumption (RX Mode 5.0 Volt) |   |  5.07 |   |  mA |
|  Current Consumption (Shut Down Mode) |   | 0,01 |   |  µA |
|  RF Sensitivity |   |  -113 |  -115 |  dBm |
| Max Data Rate |   |  10 |   | Kbit/s |
| Power Up Timer from Power to stable data |   |   |  4 | msec |
| Power Up Timer from EN to stable data |   |   |  3 | msec |
| RF Bandwidt 3dBm |   |  ±350 |   | KHz |
| Operating Temperature Range | -20 |   | +80 | °C |
Scheda tecnica
Frequenza

433.92MHz

Tipo di Modulazione

ASK (AM)

Tensione di Alimentazione

2.0 - 5.5 Volt

Assorbimento

5.0mA

Dimensioni meccaniche

38.0 x 12mm

Sensibilità

-113dBm
PRODOTTI STESSA CATEGORIA