.
.
.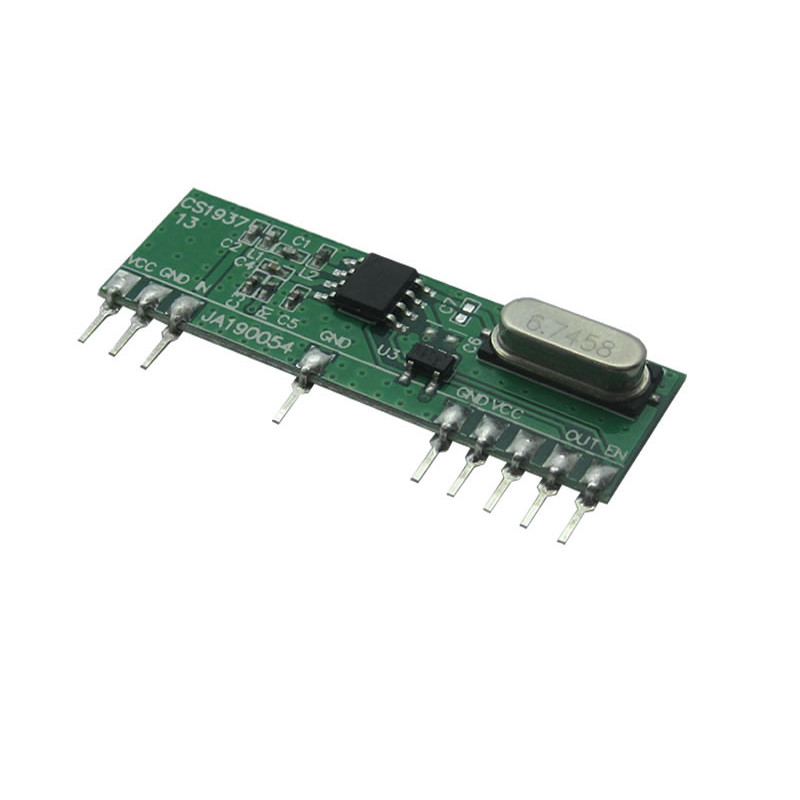 Scroll mouse to zoom in or zoom out
RCRX1-434
RCRX1-434
Ricevitore super eterodina 433.92MHz modulazione AM 
 RCRX1-434  è un ricevitore super eterodina modulazione AM .  Modulazione ASK .  Pin out standard.  Versione basso costo. Basso consumo 3mA.
                
                      

The purpose of this e-shop is to sell product samples

(small quantities), for the purchase of bigger quantities

please contact us: 

sales@radiocontrolli.com 

            
RCRX1-434  RCRX2-434  433.92MHz AM Superhet Receiver 
It's an OOK Superhet Data Receiver Module.
Very Low Cost version. The main features are the following :
1) RF Sensibility -113dBm.
2) Supply Voltage from 2.0Volt to 5.5Volt
3) Consumption 3mA
The difference between the two versions is that the RCRX2 version does not have the pin 1.
Compliant with harmonics standards:
• EN 301 489-3 : V2.1.1
• EN 300 220-2 : V3.1.1
Mechanical Dimensions . 38 x 12mm                                                                             

| | | | | |
| --- | --- | --- | --- | --- |
| Technical Characteristics | MIN | TYP | MAX | UNIT |
| Supply Voltage |  2.0 |   |  5.5 | Volt |
|  Current Consumption (RX Mode 3.3Volt ) |   | 3.0 |   |  mA |
|  Current Consumption (RX Mode 5.0 Volt) |   | 3,50 |   |  mA |
|  Current Consumption (Shut Down Mode) |   | 0,01 |   |  µA |
|  RF Sensitivity |   |  -112 |  -115 |  dBm |
| Max Data Rate |   |  10 |   | Kbit/s |
| Power Up Timer from Power to stable data |   |   |  4 | msec |
| Power Up Timer from EN to stable data |   |   |  3 | msec |
| RF Bandwidt 3dBm |   |  ±350 |   | KHz |
| Operating Temperature Range | -20 |   | +80 | °C |
Scheda tecnica
Frequenza

433.92MHz

Tipo di Modulazione

ASK (AM)

Tensione di Alimentazione

2.0 - 5.5 Volt

Assorbimento

3.0mA

Dimensioni meccaniche

38.0 x 12mm

Sensibilità

-112dBm
PRODOTTI STESSA CATEGORIA