.
.
.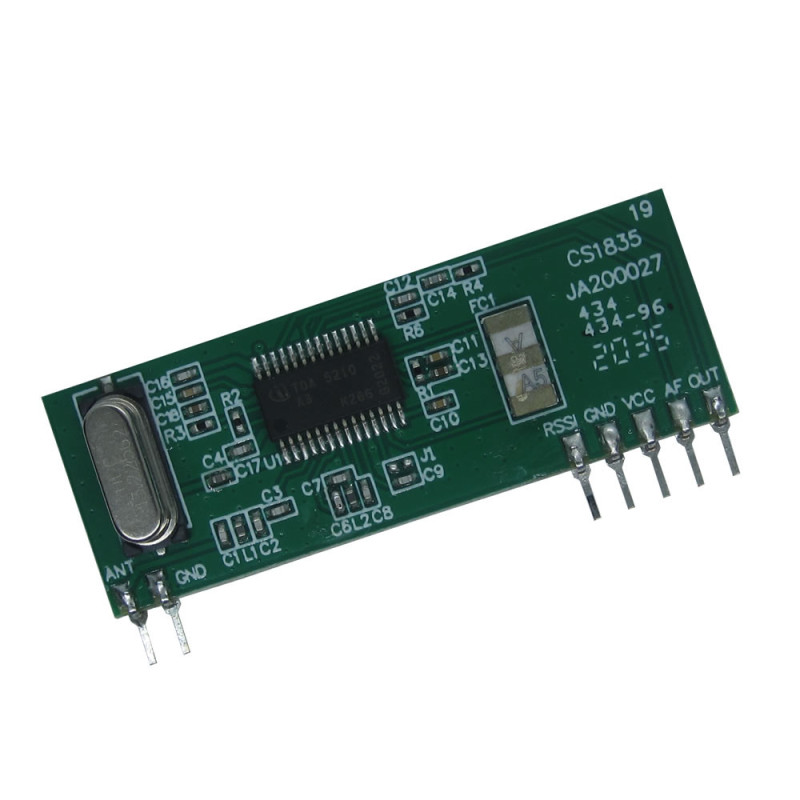 Scroll mouse to zoom in or zoom out
RC-RFSK3-434
RC-RFSK3-434
433.92
MHz FSK Superhet Receiver 4.8kbit/s
RC-RFSK3-XXX is an FSK Radio Receiver Module with
PLL Synthesizer and crystal oscillator.
Single Line Package with power down mode and RSSI Output.

The purpose of this e-shop is to sell product samples
(small quantities), for the purchase of bigger quantities
please contact us: 
433.92MHz FSK Radio Receiver Module  
 RC-RFSK3-434 is an FSK Radio Receiver module with PLL synthesizer and crystal oscillator, single line package with Power down mode and RSSI output.
                                                                                
Technical Characteristics
MIN
TYP
MAX
UNIT
Supply Voltage 
4.5
 
5.5
Volt
 Current Consumption (TX Mode)
 
5.7
6.8
 mA
 Current Consumption (Standby mode)
 
 
 100
 nA
 Frequency
 
  433.92
 
 MHz
 Max Data Rate
 
 
 4.8
 Kbit/s
 RF Sensitivity
 
  -102
 
dBm
 3dB Bandwith
 
±150 
   
KHz

 

Level of emitted spectrum

 
  
 70
dBm
 Power Up Timer (from Power on to RF)

  
 
8
ms
 Power Up Timer (from EN to RF)
 
 
5
ms
 Operating Temperature range
-25
 
+80
°C
Mechanical Dimensions  46 x 16.4mm
 
 
 
 
| | | |
| --- | --- | --- |
| Pads |  Name |  Description |
|  1 |  IN |  ANTENNA |
|  2 |  GND |  Ground |
|  14 |  RSSI | Received Signal Strenght Output |
|  15 |  GND |  Ground |
|  16 |  VCC |  Power |
|  17 |  AF |  AF Output |
|  18 |  OUT |  Data Out |
|   |   |   |
|   |   | |
Scheda tecnica
Frequenza

433.92MHz

Tipo di Modulazione

FSK

Tensione di Alimentazione

4.5 - 5.5 Volt

Assorbimento

5.7mA

Dimensioni meccaniche

46 x 16.4mm

Sensibilità

-102dBm
PRODOTTI STESSA CATEGORIA