.
.
.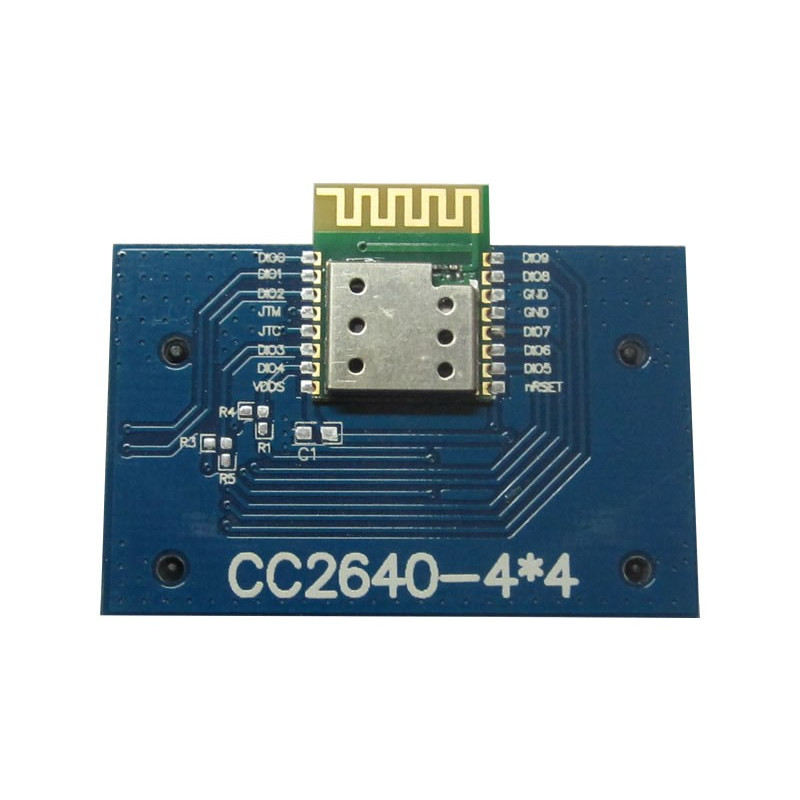 Scroll mouse to zoom in or zoom out
RC-CC2640-B-EV
RC-CC2640-B-EV
IoT Bluetooth Module based on CC2640 Texas Instruments component.
To make immediate usable the RC-CC2640-B module with Texas Instruments systems has been realized the adpter board.
                
                      

The purpose of this e-shop is to sell product samples

(small quantities), for the purchase of bigger quantities

please contact us: 

sales@radiocontrolli.com 

            
IoT Bluetooth Module based on CC2640 Texas Instrument
RC-CC2640-B is designed based on CC2640F128 Bluetooth Smart (BLE4.1) System-on-Chip, fully supports the single mode Bluetooth Low Energy operation.
The module provides the ability to either put your entire application into the integrated ARM Cortex M3 microcontroller, or use the module in Network Processor mode in conjunction with the microcontroller of your choice.
Mechanical Drawing and dimensions : Very small 12 x 15mm
Bluetooth4.1, Single mode compliant-Supports master and slave modes

Build in CC2640F128 Bluetooth Smart System-On-Chip

RF Performance : TX Power=+5dBm RX Sensitivity=-87 -97dBm

Ultra low current consumption

Transmit current(0dBm)=6.1mA

Receiving current=5.9mA

Size: 12mm×15mm×1.5mm
| | | | |
| --- | --- | --- | --- |
| Technical Characteristics | MIN | MAX | UNIT |
| Operation Voltage | 1.8 | 3.8 | Volt |
| Operating Temperature | -40 | 85 | °C |
| Current Consumption BLE Advertising (interval 100ms) | 0.23 | | mA |
| Current Consumption BLE Connection (interval 30ms) | 0.35 | | mA |
| Current Consumption BLE Connection (interval 50ms) | 0.22 | | mA |
| Current Consumption BLE Connection (interval 100ms) | 0.12 | | mA |
| Current Consumption BLE Connection (interval 500ms) | 0.02 | | mA |
| Current Consumption Sleep Mode | | 1 | µA |
| TX Power | -21 | 5 | dBm |
| RX Sensitivity | -87 | -97 | dBm |
| Storage Temperature | -40 | +150 | °C |
| Mechanical Dimensions 8.35 x 8mm | | | |

| | | |
| --- | --- | --- |
| Pads | Name | Description |
| 1 | DIO 0 | GPIO, Sensor controller, High drive capability |
| 2 | DIO 1 | GPIO, Sensor controller, High drive capability |
| 3 | DIO 2 | GPIO, Sensor controller, High drive capability |
| 4 | JTAG | JTAG TMSC |
| 5 | JTAG | JTAG TCKC |
| 6 | DIO 3 | GPIO, High drive capability, JTAG_TDO |
| 7 | DIO 4 | GPIO, High drive capability, JTAG_TDO |
| 8 | VDD | 1.8v TO 3.8v Power Supply |
| 9 | RESET_N | Reset, active-low (No internal pullup) |
| 10 | DIO 5 | GPIO, Sensor controller, Analog |
| 11 | DIO 6 | GPIO, Sensor controller, Analog |
| 12 | DIO 7 | GPIO, Sensor controller, Analog |
| 13 | GND | Ground |
| 14 | GND | Ground |
| 15 | DIO 8 | GPIO, Sensor controller, Analog |
| 16 | DIO 9 | GPIO, Sensor controller, Analog |
Scheda tecnica
Frequenza

2,4GHz

Tipo di Modulazione

Bluetooth

Tensione di Alimentazione

1.8 - 3.8 Volt

Assorbimento

0.23mA

Dimensioni meccaniche

15 x 12mm

Potenza RF

-21dBm ÷ +5dBm

Sensibilità

-87dBm ÷ -97dBm
PRODOTTI STESSA CATEGORIA