.
.
.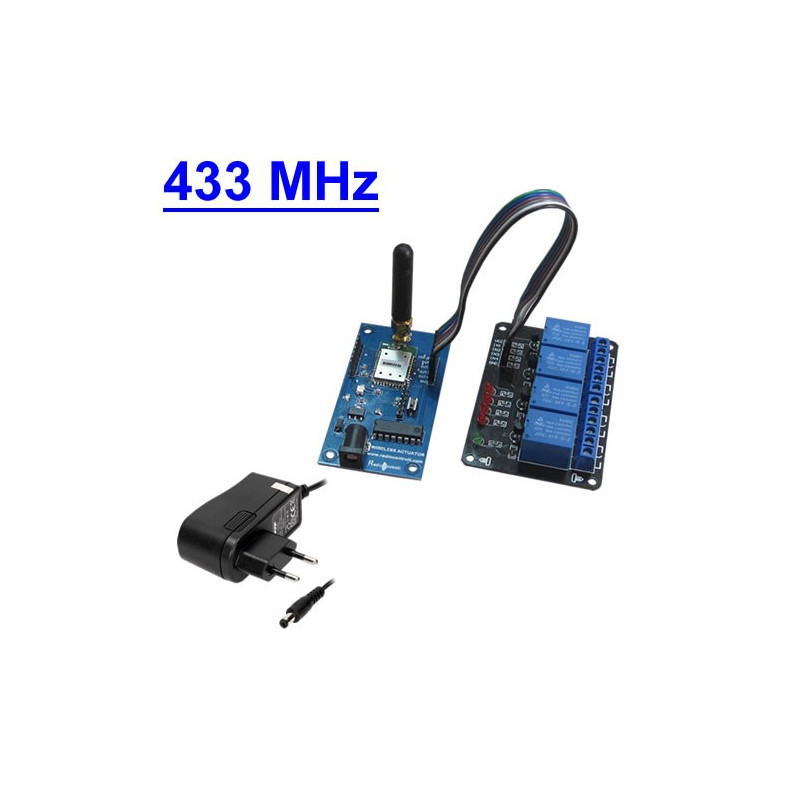 Scroll mouse to zoom in or zoom out
433MHz Wireless Actuator Board
433MHz Long Range Wireless Actuator Board
The kit is composed :
N.1  RCQ3-868-ACT   Actuator Board with 868MHz Antenna.
N.1  Relay Board  (4 Relay) with cable Female-Female
N.1  5 Volt Power Supply
433MHz ON/OFF Wireless Actuator, this board (RCQ3-434-ACT)  can be used with the GATEWAY (RCQ3-434-DK) or with the ARDUINO shield (RCQ3-434-ARD) to control via serial interface RS232 one or more Actuator units (RCQ3-434-ACT) with the possibility to drive from N.4 up to 256 relays. It is possible to connect to each actuator unit a relay board (N.4 relay). This device works in Long Range Mode (LRM) using a special encoding technique for more information see the Actuator or TRX Unit technical documentation. This wireless control system is designed for the most varied requirements in the field of Home automation, it can be used to activate all kinds of lighting, as other applications, for example heating / cooling, electric gates, automatic doors and industrial controls.
TX unit can be managed by a normal PC  or by Raspberry
The main features of this bidirectional system are:
Sending via RS232 of an actuation command to one or more actuator card to actuate the 4 relays.
At each actuation command the actuator device sends the feedback relating to the operation performed.
It is possible at any time to know the status of the individual relays of a specific actuator card.
The relays can be managed in monostable mode and in bistable mode
Each actuator has a temperature sensor on board and it is possible to send a command, to know the temperature value of the individual actuator. 
Data sheet
Frequency

433MHz

Modulation

GFSK2