.
.
.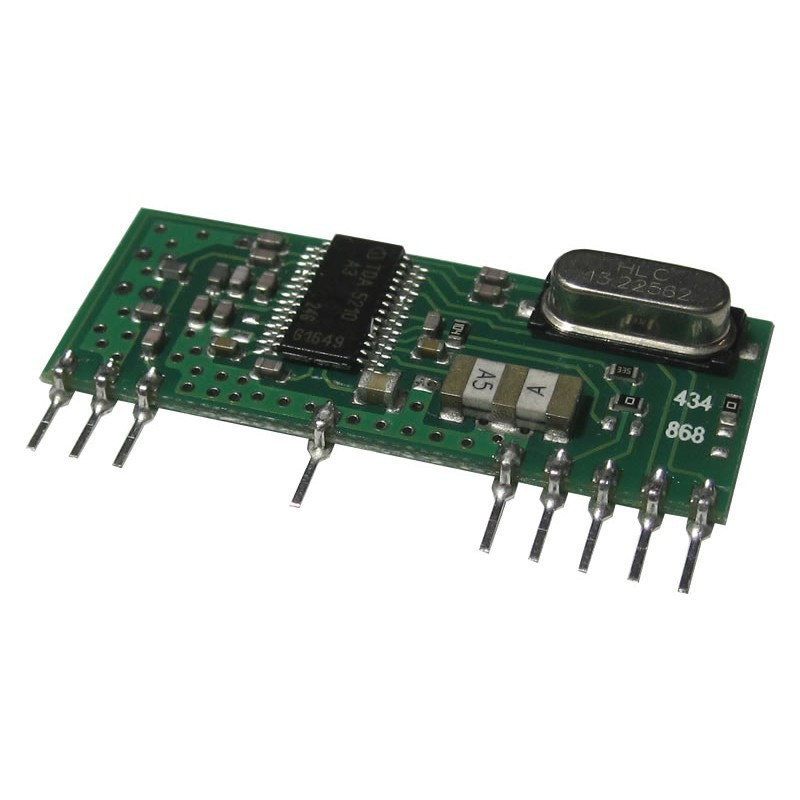 Scroll mouse to zoom in or zoom out
RCASK2-868.95
RCASK2-868.95
Modulo ricevitore super eterodina modulazione AM
RCASK2-868.95  è un ricevitore super eterodina con modulazione AM con oscillatore a quarzo e circuito squelch. Pin out europeo standard. Version SIL con power down mode.
Frequency : 868.95MHz
                
                      

The purpose of this e-shop is to sell product samples

(small quantities), for the purchase of bigger quantities

please contact us: 

sales@radiocontrolli.com 

            
 868.95MHz AM Superhet Receiver 
 RCASK2-868.95  is an AM superhet data receiver with PLL sinthesizer and crystal oscillator.  ASK/OOK modulation. Standard European pin out . PTH Mounting . 
Mechanical Dimension 38.1 x 14.5mm                                                                              

| | | | | |
| --- | --- | --- | --- | --- |
| Technical Characteristics | MIN | TYP | MAX | UNIT |
| Supply Voltage |  4.5 |   |  5.5 | Volt |
|  Current Consumption (RX Mode) |   |  5.0 |  6.0 |  mA |
|  Current Consumption (Shut Down Mode) |   |   |  100 |  nA |
|  Frequency |   |  868.95 |   |  MHz |
| Max Data Rate |   |   |  4.8 | Kbit/s |
|  RF Sensitivity |   |  -107 |   | dBm |
|  RF Bandwidth 3dB |   | 300 |   | KHz |
|  Level of emitted spectrum |   |   |   -70 |  dBm |
|  Power Up Time (from Power to stable data) |   |   |    8 |  ms |
|  Power Up Time1 (from PD to stable data) |   |   |    5 |  ms |
| Operating Temperature Range | -20 |   | +80 | °C |
Pin Description 
EN=0Volt -----> RX OFF    EN=5Volt ----->RX ON                                

| | | |
| --- | --- | --- |
| Pads |  Name |  Description |
|  1 |  VCC |  Power Supply |
|  2 |  GND |  Ground |
|  3 |  ANT |  Antenna |
|  7 |  GND |  Ground |
|  11 |  GND |  Ground |
|  12 |  VCC |  Power Supply |
|  13 |  TP/RSSI |  Test Point / RSSI |
|  14 |  OUT | Data Out |
|  15 |  EN |  Enable |
Scheda tecnica
Frequenza

868.95MHz

Tipo di Modulazione

ASK (AM)

Tensione di Alimentazione

4.5 - 5.5 Volt

Assorbimento

5.0mA

Dimensioni meccaniche

38.1 x 14.5mm

Sensibilità

-107dBm
PRODOTTI STESSA CATEGORIA