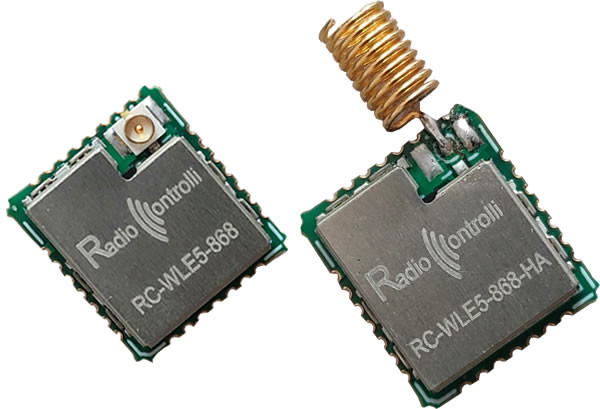 New LORA module STM32WLE5JC based
LORA Wireless module STM32WLE5JC based
RC-WLE5-868 is an ultra low power long range device designed by RadioControlli.
The module is based on STM32WLE5JC device from STMicroelectronics. Multiprotocol LPWAN 32bit Arm®Cortex® M4 MCUs, LoRa®, (G)FSK, (G)MSK, BPSK .
The main applications of this module are Internet of Things devices and wireless sensor networks , especially battery powered low power consumption long range.
Operative Frequency bands : 868MHz.
Ready for use SMD mounting (13 x 14.5mm), Metal shield.
For more information and details, please refer to the STM32WLE5J datasheet (www.st.com).
We provide 2 versions:
1) Standard version with UFL connector You can use the UFL connector where you can directly connect the antenna. The RF output signal is also present on a 50 ohm pin (pin 15) in case you want to create your own antenna project on your pcb.
2) Version with helical antenna (full version) RC-WLE5-868-HA